Here's an early Preview of a new project that I'm working on with veteran ANML, Keith Squirrel. We've been working on a bunch of Projects this past year, and although we don't know how far we're going to take this in particular we know there's endless possibilities. An art gallery with original prints? Anime Wall Scrolls, like the ones you find at Comic Book & Video Game shops? Trading cards? At the end of the day, this is what we do and we just want to share these images with you guys. So far now I'll just be blogging good quality previews of this project, and also another Project that we have in the works too.
————————————————–
As far as styling goes, we wanted to keep Ash pretty true to streetwear. He's still rocking his snapback, which will end up being an AnmlHse hat when this Project is finished. He's wearing a unisex American Apparel sleeveless hoody, as well as Mr. Fantastic Air Max 90′s on his feet. We wanted to keep his style TRUE to Ash as well, so he's still wearing fingerless bike gloves (fucking Hipster on a fixie). The bike was my favorite part of Pokemon Red/Blue so we definitely had to add that in there. We also had to give a little dynamic and add some more fluidity to this pose by giving him a Raccoon tail. I thought that was a pretty cool twist. What do you think?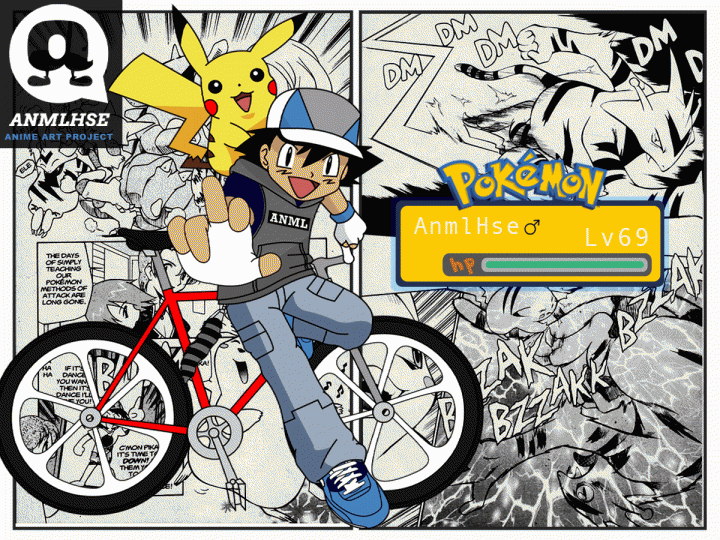 The whole concept is to bridge Anime's original character style with a modern-day Fashion twist. Most of these mangas/shows had some really cool characters with trendsetting Style & great Fashion sense, so we wanted to play around with that idea but give it an update. This is Part 1 of an on-going series that we'll be creating! Expect to see characters from popular Animes all the way to underground favorites. We're trying to post at least ONCE A WEEK, every Saturday. Stay tuned for Part 2 with Lupin The 3rd!
————————————————–
- Original Concept + Layouts by: @PandaReemy
- Vector Illustrations + Coloring by: @Keith_Squirrel